STAND FOR VIOLONCELLO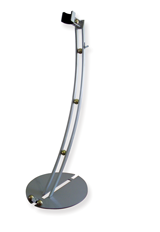 We offer you our smart and practical stand for violoncello. You put your instrument safely to stationary position. You hang the bow on the tilting hook. With this product you get also very interesting accessory for your interior.
Design: a) metal with silver colour coating with golden decorations Design: b) metal with black colour coating with woden decorations Weight: 5,8 kg
Size: 90 x 50 x 33 cm
  RESONANT CELLO ENDPIN


In cooperation with Czech luthiers and cellists, we have developed an endpin shaped of a modern material – carbon fibre. It is stable, elegant, and it´s custom-built stainless steel tip can be changed easily. The endpin weighs only 68 grams. Standard cone measurements are:
26,0 / 28,3 mm
25,0 / 27,3 mm
24,0 / 26,3 mm
23,1 / 25,4 mm
Please, see also at: www.endpin.eu
  RESONANT DOUBLE-BASS ENDPIN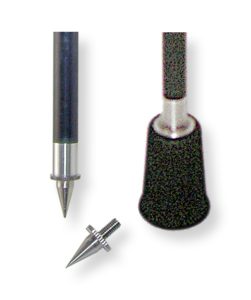 This endpin is stable, smart and light. It is possible to use it with the rubber hoof or with the stainless steel pike which appears simply by unscrewing the rubber hoof. Cones of the peg corresponds to the reamer supplied by Dictum company. Standard cone measurements: 29 / 32 mm
Size of the cone: 50 mm
Size including the fixation: 90 mm
Total lenth of the endpin: 460 mm
On special inquiry of the customer we are able to produce different measurements.
  WIRE FOR THE DOUBLE-BASS

Parts:
– steel wire
– metal tube
– 3 screws for screw-driver no. 2Instructions for use:Handle the tube, insert one end of the wire cca 10 cm through the tube, then insert the second end from the opposite side of the tube. Then take both ends and get the tube position to the middle. The circle can be made larger or smaller by heaving of both sides of the wire. When the size is suitable for your instrument, screw-on the screws in the holes by screw-driver "imbus" no.2.
Please check other featured products in our Catalog for musicians.